MORKO ULTRASONIC SCALE PREVENTER
---
What is Morko Ultrasonic Scale Preventer (USP)?

Ultrasonic Scale Preventers use high frequency low displacement vibrations to prevent mineral scale and fouling from settling on heat exchanger area and pipes. This increases heat transfer efficiency and prevents flow blockages in pipe applications.

Morko Co Ltd Produces Ultrasonic Scale Prevention Technology and these systems have been operating in eastern Europe and Asia since 1995.

USP systems impart a mechanical vibration in pulses at 15kHz and a displacement of 5microns to the heat transfer surface to break up the foulant material that builds over time in the course of heat exchanger operation in fouling service. The vibrating surface makes it difficult for fouling particles to stick to the surface so they continue to flow downstream.

Essentially, the USP converts high-maintenance facility systems into self-cleaning facility systems.

---
Proven Benefits of using Morko Ultrasonic Scale Preventer
Saving Energy, Time, Money and Ultimately The Earth!


---
Typical Applications
Crude Oil
For USP operation in crude oil application, the main scale prevention method is the ultrasonic vibration. The vibration causes the scale that builds on the metal surface to break away with a small and limited amount of cavitation effects. The vibration action prevents scale from settling on the metal surface and the existing scale breaks off and continues to flow downstream.

In the crude oil application due to higher viscosity of oil itself, the cavitation effect is limited in heavy hydrocarbon liquids as they have a higher viscosity (intermolecular forces are elevated) and they are made up of a mixture of many different heavy molecules. Therefore the amounts of micro bubbles in the heavy oil are limited and very small hence the cavitation cleaning effect is small and more difficult than in water.

The acoustic cavitation in flowing crude oil is very limited and if any acoustic cavitation potentially does occur it will be too weak to cause damage to high grade stainless steel and also regular carbon steel.


Heat Exchanger Heat exchangers are used everywhere in manufacturing businesses. USP can be applied where heat exchangers are in fouling service. The USP technology can be applied in:

Upstream Operations in Heavy Oil such as Froth Treatment, Upgrading and SAG-D
Downstream in Refinery and Chemicals Applications
Gas Production, Gas Processing, and in LNG plants
Offshore Production Platforms

This technology may also be applied to non-heat exchanger applications where there is fouling in pipes. The fouling may be due to mineral scale, asphaltenes, wax formation and other precipitates.

Pipe Fouling Prevention
Fouling problems occur in pipe sections where mineral scale, wax and other foulants can cause flow restrictions. USP can be applied on straight sections of pipe and in pipe bends to reduce the laydown of foulant on the inside surface.

The flexibility of the USP systems has been increased by designing a clamp-type transducer. The clamp type transducer is typically for pipe scale/wax applications where welding is difficult, un-economical, or impossible. The clamp type USP can be modified for use on heat exchangers.

The vibrational power transmission on the clamp type system is less than the welded system due to ultrasonic vibrational losses between the transducer and the fouling surface, however it is still effective in preventing scale and foulant from building up on the heat transfer or pipe flow surface. No FAME data or industrial data is available for the clamp type USP system.

High Temperature Boiler
Steam generators and boilers can have mineral scale problems due to water quality issues. Mineral scale precipitates out from solution in the evaporation process causing a fouling heat resistance in boilers. The USP has been successfully applied to high temperature boilers and steam generator applications to prevent the lay down of layers of mineral scale that form.
---
Components of an USP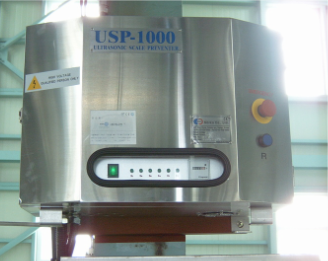 Generator
A generator normally uses the single-phase voltage of 220V and generates two types of ultrasound wave mode: pulsed mode and continuous mode. The USP generator is based on the pulsed wave mode, and it has a frequency control circuit to set its resonance frequency. The frequency range of the generator can be adjusted depending upon transducers and objects. In most cases, the range falls between 10 kHz and 25 kHz approximately. Except for some parts, most parts of the generator are semi-permanent. There are two types of generator, namely weather-proof for typical usage and explosion-proof for highly hazardous areas.
---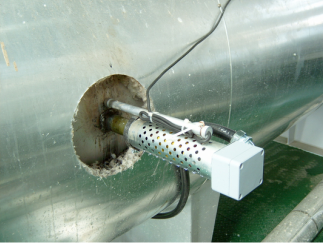 Transducer
A transducer of the Morko USP utilizes magnetostrictive materials (Fe-Co). It should be flanged and welded to the equipment to enhance tight connection and high efficiency of transmission. It is known that its lifetime is approximately 5 years on average. There are two types of transducer: weather-proof for typical usage and explosion-proof for highly hazardous area application.
---
---
Certifications & Awards


---